-------------------------------------------------
OVERVIEW
Open A4.21Studio for RAW
ROME ART WEEK
SATURDAY 29 OCTOBER 2022
from 09:30 to 19:00
-------------------------------
------------------
THE STUDIO LIKE A COLLAGE
Open Studio No.1
a4.21studio@gmail.com
-------------------------------------------------
THE 3 ° WORK OF THE SPHERES & The Globe International Relations

which hosted Oblò 1 during their session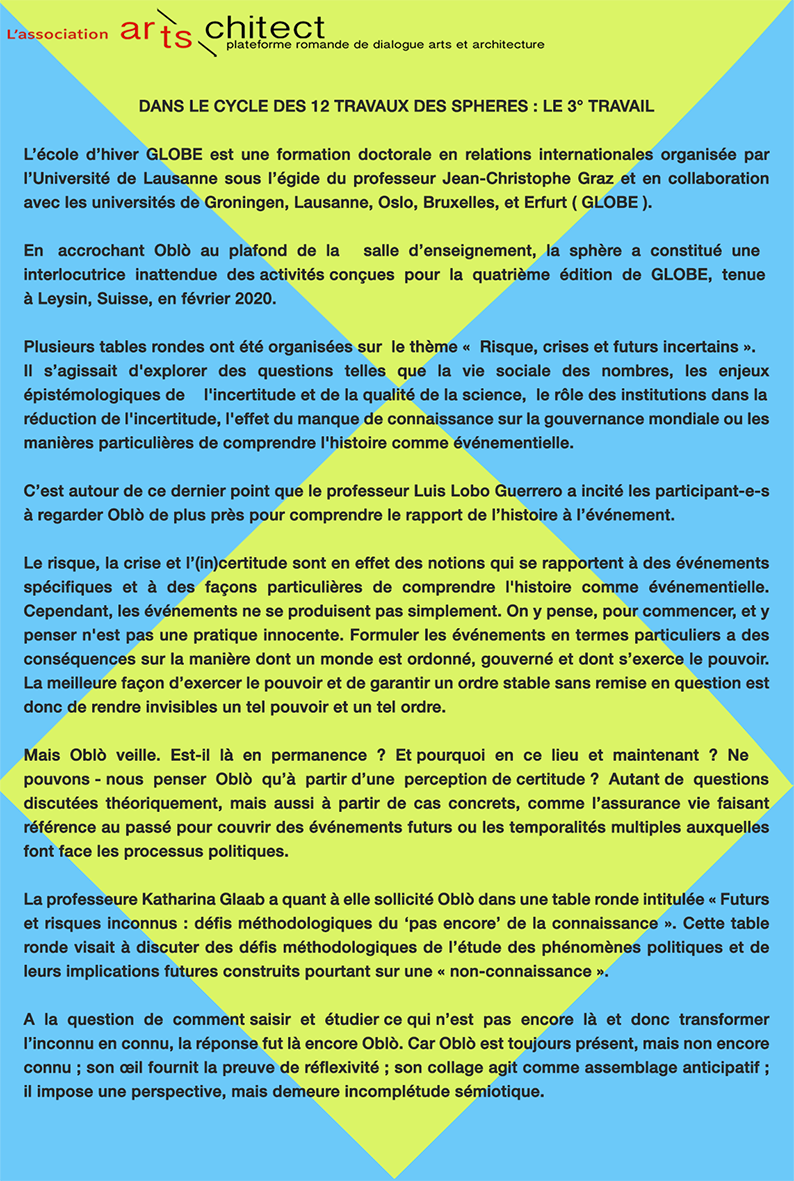 -------------------------------------------------
www.cdac.ch
-------------------------------------------------
THE 2 ° WORK OF SPHERESOblò Valeur and Jonathan Delachaux

on 09.03.2019 at standard / deluxe - Lausanne
-----------------------------
THE 1 ° WORK OF THE SPHERES
Brand Oblò
and the Collectif du Pont D'Or
--------------------------------------------------
IS XMAS FOREVER ?
from 01/12/2018 to 05/01/2019
www.cdac.ch
--------------------------------------------------
-------------------------------------------------
THE 12 WORKS OF THE SPHERES
a cycle of twelve interdisciplinary meetings around the series of spheres by Michel Pellaton


The project proposed by Michel Pellaton comes directly from his practice of collage. For him, collage is not just about putting together parts that have no direct relationship and thus create meaning, surprise or precedents.
He also considers the origin of objects or images, sometimes by going to look for them by different processes, sometimes by noting their context, sometimes by highlighting such aspect of their history. As he practiced, he came to compose a sort of collage grammar that gives him full freedom if needed. He has come to attempt different unresigned ways and methods to achieve "collage" in vivo, that is to say directly with living artists, and around programs or designs.
The 12 WORKS OF THE SPHERES
are part of this lineage. Not only with artists, but with people from different disciplines to offer different narratives, already to begin with.
Concretely, it is a question of creating twelve meetings each time with: A new speaker who would propose ONE presentation between on the one hand A place and on the other hand ONE of the spheres of the Oblò series or the worlds of Michel's worlds Pellaton, artist curator of the project. As the meetings progress, a particular kind of network will perhaps be created, something that could look like a multiplier, as collages could be: Creations fruit of our societies.
--------------------------------------------------
AVANT-PREMIERE
From 22 of October to 16 of Dicemeber 2018

As a preview of the 12 TRAVAUX DES SPHERES
cycle and off the trails of these 12 events during the year 2019 which will be more urban, Michel Pellaton will directly invite, as a Preview, actors from the world of the arts, culture and other disciplines in order to present his project in a laboratory.
His proposal was to group his spheres from the series "Oblò or the worlds of worlds" all together (mostly suspended) in a huge open space inhabited on five levels. This was created during the renovation of a double barn attached to a farm at the foot of the Swiss Vaud Jura and made available, only by appointment, by the patron who supports this project. During this renovation, an enormous chainmail by the Geneva artist Carmen Perrin was installed under the entrance porch. It was most obvious to offer her her participation as a "guest" for this Avant-Première, given her significant relationship between her approach and architecture as well as with the circular form.